Sharon Yung is many things: a challenge seeker, and someone who is service- and goal-oriented. At first glance, her career background in Minnesota has nothing to do with her role now, but she'd argue it all stems from the same root of working with people and providing a service. Sharon started her career as an RN and went on to get her Master's as a family nurse practitioner.
"I knew I always wanted to be of service and I really loved the 'womb to tomb' medical care that I could provide for families. It always seemed like a really good fit," said Sharon.
Sharon, her husband, Tony, and sons Julien, Aiden, and Elliot.
Throughout her medical career, Sharon was able to work alongside nonprofits and eventually specialized in sleep medicine. She was traveling to see patients outside the city on top of keeping her regular office hours. It came to a point where Sharon and her husband were "burning the wicks at both ends." And with three teenage boys at home, they decided it would be best for Sharon to stay home while continuing to volunteer.
Through her new SAHM /  "professional volunteer" roles, Sharon somehow squeezed in time for herself – running more and doing some "soul seeking" to figure out what a career path for her may look like moving forward. She ran into an old high school friend, Matt Westland, along the way. Matt is an N2 Area Director in St. Cloud MN. He mentioned his role, and Sharon, having grown up in a household with parents who were small business owners, felt an instant curiosity. She had a desire to be in charge and in control of her own career. She found her second career in sales.
A Shift in Service
"It was pretty exciting and very different – a shift, or, I thought it was a shift. In any sort of volunteering or nonprofit work, and even in nursing, they're all about service. So whenever you're dealing with people, it's a give and take."
Another enticing part of the N2 Area Director role for Sharon? The challenge.
"If I make it through ramp-up, that's proof I can make it and only grow from there," she determined. She went through training in 2016 and met a group of other AD-hopefuls in the process. She is still connected with many of those colleagues-turned-friends to this day.
"They're just so inspiring and they're from all over the country. I love that we didn't even know each other, and we still connect at Conferences and text each other. I've really enjoyed meeting the people over the years."
In all honesty, though, Sharon wasn't completely confident she could make life as an Area Director work. "I really didn't think I could do it, looking back. Everyone around me, they knew I could do it, you know," she said, teary-eyed. "It's not easy, and I'm not the best, but to hear from people that have been in it for a long time say, 'I know you can do this,' and even, 'we can do this…'" It meant everything to Sharon.
"I just feel really grateful that I have this opportunity and at the same time I have this chance to prove to myself that I can do this."
In all her humility, Sharon has enjoyed more than four profitable years in her publication business, all while holding a high renewal rate with her advertising clients. She's even coaching other Area Directors after benefitting from mentorship herself.
"I always think, 'If this was my mom, dad, or brother, is this the advice I would give them?' We've all been patients and that's really easy to understand that sort of service component. I knew this [role] could be service-oriented as well – if I kept that at the center."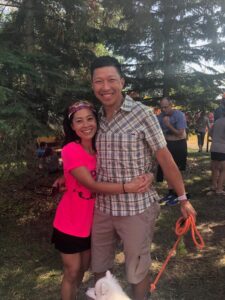 Sharon and her husband, Tony, at a community event.
Sharon's also known to throw some great events in her Duluth community. Not only fun and informative experiences for her residents, but events that also connect the area businesses. Many times it's an educational get-together like a college prep talk for rising high school seniors and their parents or a coffee-and-tax-prep session. In 2020, Sharon utilized local food trucks for outside events to adhere to COVID-19 protocols. Hosting virtual events during the seemingly endless Minnesota winters has worked to her advantage as well. And not only events, but Zoom meetings with clients also pair well with inclement winters and social distancing.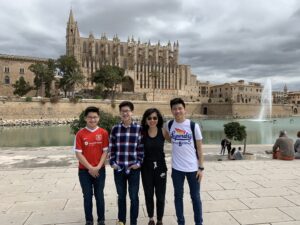 Sharon and her sons Elliot (14), Aiden (17), and Julien (19).
The Resilient Year
Sharon looks back on 2020 as "the resilient year."
"You had to really look in the mirror. That was probably the most painful part as a business owner because it was a gamble. A lot of things are not in our control. But it's exciting to think we can still sustain during this market. And I love that N2 has really geared up to help train us to be better."
Close to five years after her start, Sharon is still up for the challenge. She's taking what life has to offer and the curveballs we're all dodging, and she's welcoming every bit of it with humility in tow. She also took on a Regional Manager role coaching and leading other Area Directors around her.
For those with that same mindset and ready for a sales career, Sharon has some advice. "If you think you're ready for a role where you can really push yourself emotionally and cognitively, but at the same time be humble and work hard while having a flexible schedule, this is definitely the role for you."
Are you up for the challenge? See if we have an open position in your area.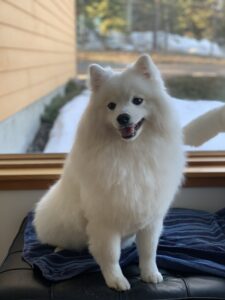 The Yung's Japanese Spitz, Yuki.